Works Ministry releases schedule for collection of FCB U.R.P. Debit Cards
May 22, 2017: The Ministry of Works and Transport advises that only Persons WHO HAVE BEEN NOTIFIED VIA TELEPHONE, to collect their card should present themselves at the specified venue.
The required documents to receive the URP bank card are:
- A valid National Identification Card. Other forms of I.D. such as a Driver's Permit or Passport WOULD NOT BE ACCEPTED
- PROOF OF ADDRESS – any bill in the applicant's name from a utility provider such as:
T&TEC, DIGICEL PLAY, FLOW or TSTT/BMOBILE.
THESE DOCUMENTS MUST NOT BE OLDER THAN THREE (3) MONTHS.
WASA Bill- This mustbe within the period April - July 2017.
- If  the applicant produces any of the documents mentioned above, which DOES NOT support his/her name, then the  following  documents  MUST be presented:
F.C.B. Addressverification letter original.
(If applicable) Utility bill in the name of the spouse supported by a marriage certificate.
(If applicable) Utility bill in the name of parent supported by birth certificate.
Utility bill in the owner's name supported by Address Verification Letter and a copy of the person's (owner of the bill) Identification Card.
Following is the schedule for collection of FCB U.R.P. Debit Cards during the period May 23, 2017- June 1, 2017: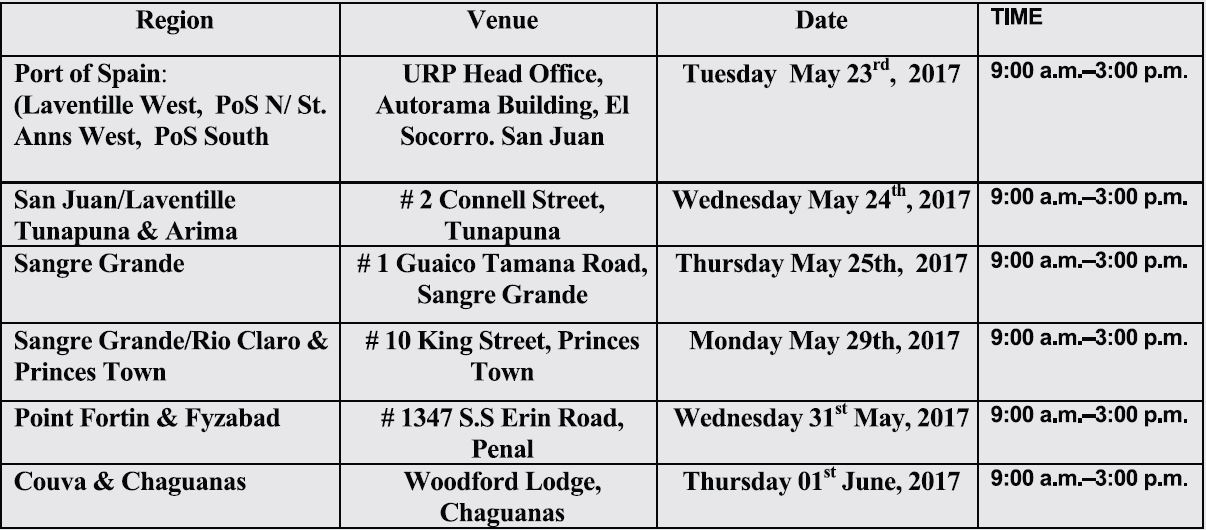 ###
For further information please contact:
The Corporate Communications Unit
Ministry of Works and Transport
868-625-1225