Trade Minister: small and medium sized businesses are vital to our economy
May 4, 2017: Senator the Honourable Paula Gopee-Scoon, Minister of Trade and Industry toured the facility of the Santa Rosa Limeworks Limited Plant, a subsidiary of the Sampete Group on Wednesday 3 May, 2017 located in Cumuto. The Santa Rosa Limeworks Hydration Plant which has been in existence for the past thirty years is the first and only producer of Quicklime and Hydrated Lime locally. These end products are used  in areas such as water treatment - drinking water; waste water - sewage management; civil works - soil stabilization and asphalt treatment for road paving; agriculture - poultry feed and litter; iron and steel; sugar refining; and gold mining.
Minister Gopee-Scoon congratulated the Executive team on its successful operations over the last thirty years. She espoused the value of family businesses and their contribution to the economy and society. She further noted the realisation of the company's social responsibility to the Cumuto community. She said 'I am pleased to see how this family business has grown and developed its operations to meet international standards. Small and medium sized businesses are vital to the growth of our economy'.  She also underscored the importance of entrepreneurship during the current economic times and highlighted the value of nurturing and promoting a culture of entrepreneurship which contributes to employment creation, export and foreign exchange generation.
Mr. Andrew Fredericks, Managing Director, Sampete Group, provided a comprehensive overview on the products from the Sampete Group and the various industries in which they are used. He said 'This facility is a culmination of a dream and I believe that Trinidad and Tobago stands to benefit from this plant which has a natural gas supply on site contributing to the production of a better quality of lime'. He indicated that the company is currently seeking to increase its 'footprint' locally and regionally in markets such as Guyana, Suriname, Grenada, St Lucia and Barbados and looks forward to demonstrating their competence through collaborative works with the Ministry of Trade and Industry and other relevant Ministries.
This tour is a part of the Minister of Trade and Industry's on-going visits to companies across Trinidad and Tobago to lend support to local manufacturers, to view their operations and facilitate their business needs during the country's current challenging economic times.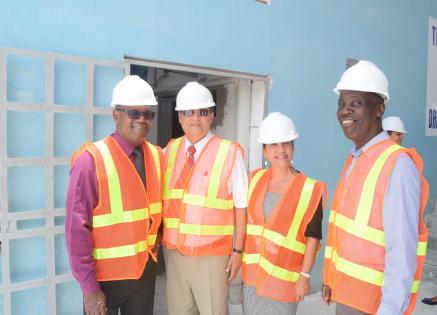 PS Norris Herbert, Ministry of Trade and Industry(right),Mr. and Mrs. Fredericks, Directors of the Sampete Group (centre) and Mr. Hadyn Gittens, Director Investment (left), during the tour.
###
For further information please contact:
The Corporate Communications Unit
Ministry of Trade and Industry
868-623-8480