TDC Chairman's appointment terminated
May 16, 2016: Termination of appointment of Ms. Dennise Demming as Chairman, Tourism Development Company Limited
The Minister of Finance as Corporation Sole of the Tourism Development Company Limited (TDC), has taken note of several statements in the public domain on the recent termination of the appointment of Ms. Dennise Demming as Chairman of the TDC.

The decision to terminate Ms. Demming's appointment was made based on the concerns raised by the members of the Board of Directors. These concerns were outlined in a letter dated April 17th, 2016 addressed to the line Minister, the Hon. Shamfa Cudjoe.

In this letter, the Board of Directors outlined their loss of confidence in the Chairman based on several actions/decisions taken, and that such actions "exposes the Board, its' Directors, the employees of the TDC ... to an unacceptable level of risk…"

The full contents of the letter can be reviewed in the attached (below).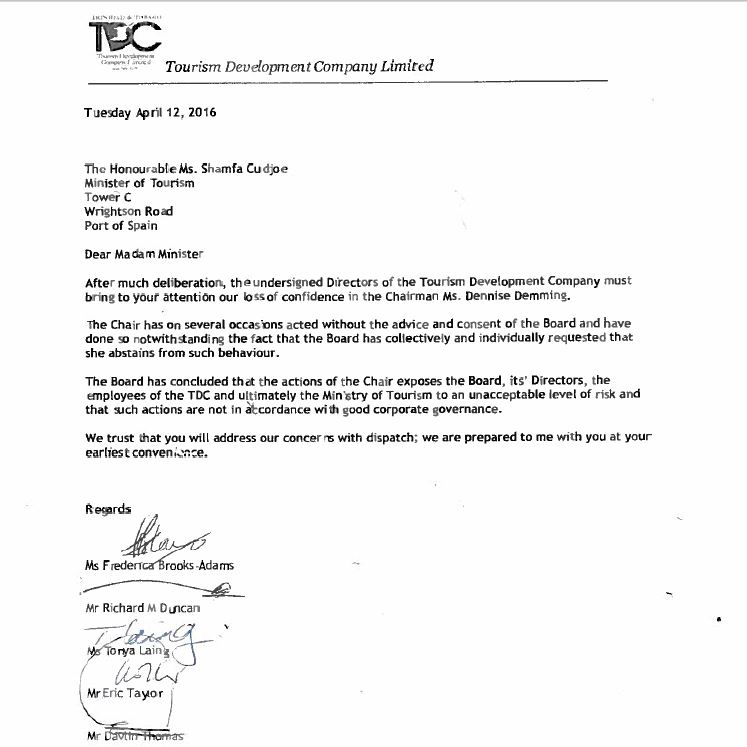 - END -
For further information please contact:
The Corporate Communications Unit
Ministry of Finance
868-627-9700 ext. 2805