NAMDEVCO hosts Seminar on Market Access to the US for T&T Fresh Produce
June 14, 2017: 'Agriculture faces serious challenges in producing safe and secure food, inherent to which, yield loss due to pests and diseases is considered to be its paramount threat.' Words of Senator Avinash Singh, Parliamentary Secretary in the Ministry of Agriculture, Land and Fisheries while speaking at the Opening Ceremony of NAMDEVCO's Seminar on 'Meeting of US Import Regulation for Fresh Fruits and Vegetables by Trinidad and Tobago Exporters'.  He said that 'Plant pests and diseases are amongst some of the major constraints to fruit and vegetable production in the Caribbean.  It is against this background that the development of locally adaptive, novel and sustainable strategies needs to be employed so as to meet and succeed both our local commitment to provide safe, diverse and viable opportunities within the agricultural sector, as well as our regional and international responsibilities and obligations to observe any legal or regulatory framework requisite for the conduct of robust trading relationships.' 
Further stating that 'today's seminar signals a progressive step in the achievement of this goal, as the information gleaned from the discussions will not only build the human capacity of attendees but increase sustainable production systems as well as enhance competitiveness within the sector.'  The Seminar, hosted under the Farm to Table initiative of NAMDEVCO, was held on Tuesday 13th June, 2017 at the Trinidad and Tobago Bureau of Standards.
Senator Singh also shared that 'the mission of the United States Department of Agriculture – Animal and Plant Health Inspection Service is to protect the health and value of American agriculture and natural resources' and thanked Mr. Di Chi and his team for their ongoing support to the local agricultural sector and stakeholders.
'In keeping with our mandate to create, facilitate and maintain an environment conducive to the effective marketing of agricultural produce and food products, this initiative enhances the development of policies' said Chairman of NAMDEVCO, Mr. Dennis Ramdeen.  He also assured the attendees that NAMDEVCO will 'continue to support agro entrepreneurial development of all our stakeholders along the value chain'.
One hundred and twenty (120) attendees from Trinidad and Tobago, Dominica and the United States of America benefitted from the seminar which addressed the subject in detail, with presentations on 'Export Requirements and Procedures'; 'Farm Certification and Monitoring Programme'; 'Piarco Packinghouse Procedures'; 'Plant Protection and Quarantine – Trinidad and Tobago'; 'Inspection Procedures and Regulations for the Importation of Commodities into the United States of America'.
Included among the distinguished guests were Ms. Dhano Sookoo, President, Agricultural Society of Trinidad and Tobago (ASTT); Dr. Simone Titus, Chief Technical Officer, Ministry of Agriculture, Land and Fisheries; Ms. Ann Marie Dardaine, Director – Engineering, Ministry of Agriculture, Land and Fisheries; Mr. Raffique Ali, Director – Regional Administration South, Ministry of Agriculture, Land and Fisheries.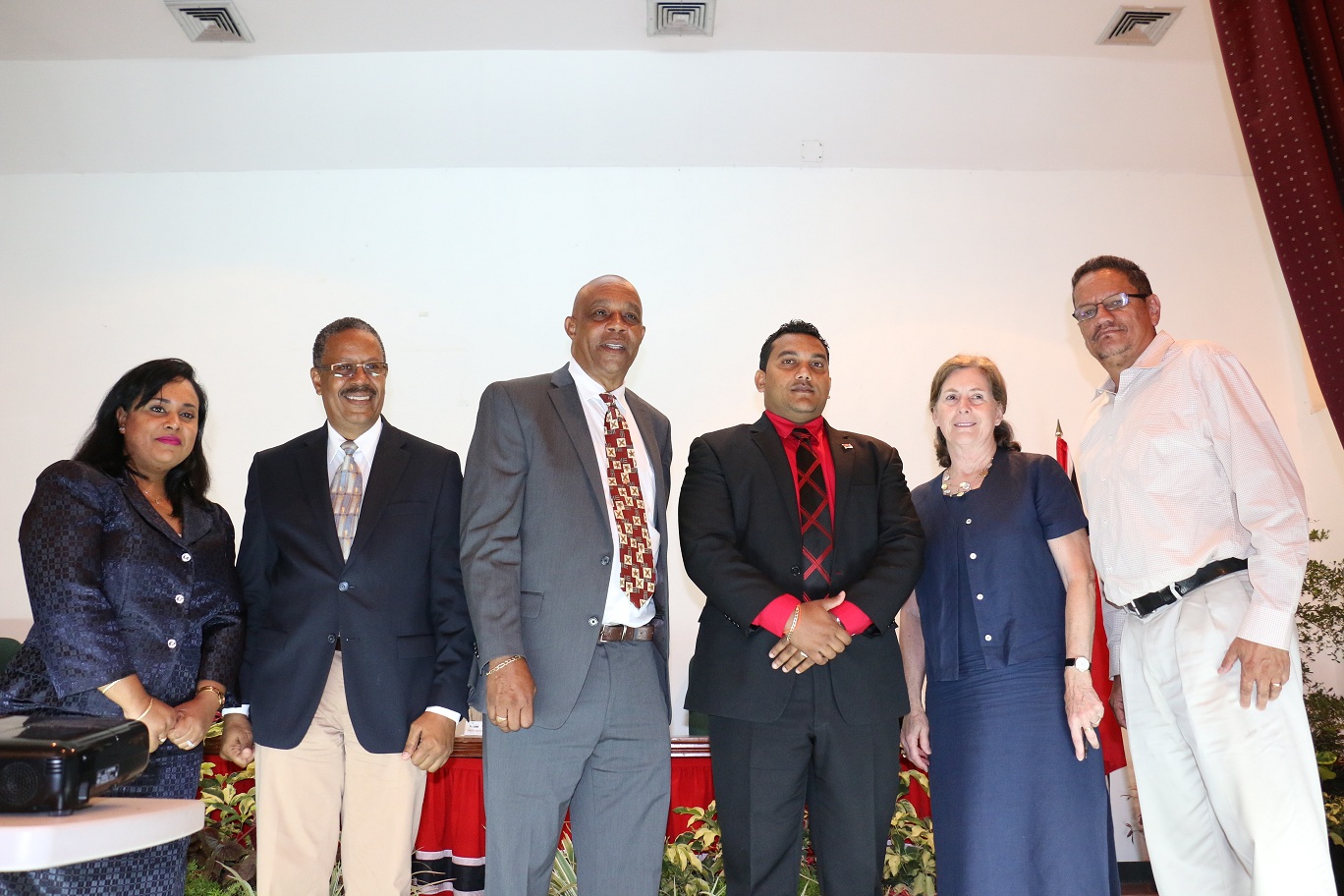 Senator Avinash Singh, Parliamentary Secretary with members of the NAMDEVCO Executives and Presenters.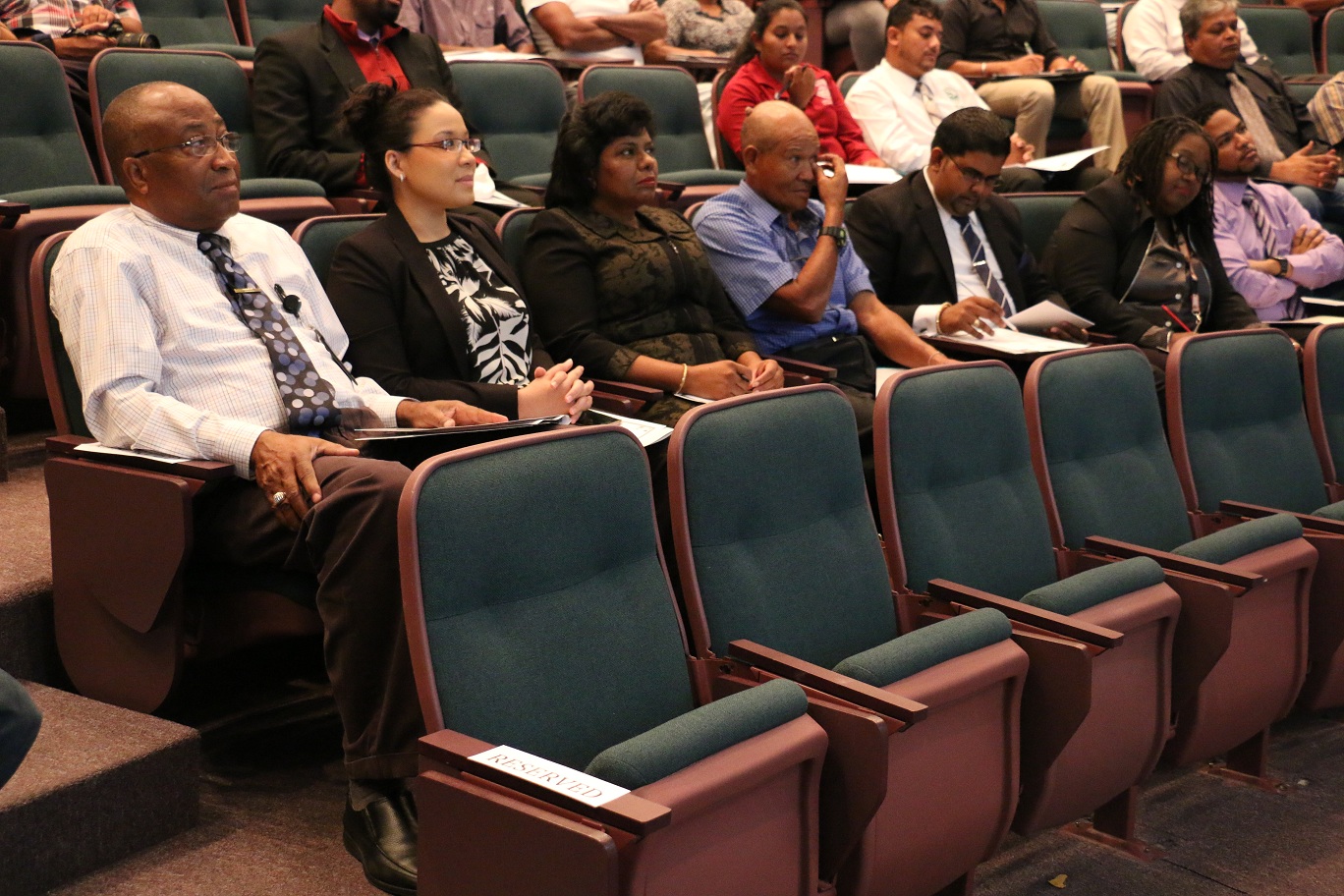 Cross section of the audience, including Mr. Wayne Inniss, Deputy Chairman, NAMDEVO and Ms. Dhano Sookoo, President, ASTT.
### 
For further infornation please contact:
The Corporate Communications Unit
Ministry of Agriculture, Land and Fisheries
868-622-1221