The Honourable Stuart Young, MP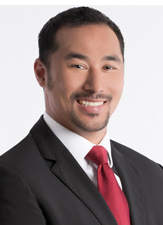 The Honorable Stuart Young was appointed Minister of National Security and Minister in the Office of the Prime Minister on August 19, 2020.
Mr. Stuart Richard Young first served as a Temporary Opposition Senator during the 4th Session of the 10th Republican Parliament. In September of 2015, he became the democratically elected Member of Parliament for Port-of-Spain North/St. Ann's West in the 11th Parliament, and on September 11, 2015, was also appointed Minister in the Ministry of Attorney General and Legal Affairs.
Mr. Young has been a practicing attorney since 1998 and has been admitted to the bar in Trinidad and Tobago, London, the Commonwealth of Dominica and Antigua and Barbuda.
A graduate of the University of Nottingham, Mr. Young has acquired a wealth of experience in civil, commercial, banking, insurance law, industrial relations, public law and constitutional law and election petitions having dealt with many complex litigation matters. He has appeared as Counsel in Commissions of Enquiry, including the Piarco Commission of Enquiry, the Commission of Enquiry into the Construction Sector and the Commission of Enquiry into the Hindu Credit Union and CL Financial.
He is a member of the Honourable Society of Gray's Inn in the United Kingdom, and is a founding member of Synergy TV and WI Sports TV stations. He also sits on a number of Boards of private companies.
A graduate of St Mary's College, Mr. Young is a sport enthusiast who has competed in triathlons, has a black belt in shotokan karate and has played many sports at competitive levels, including, rugby and cricket.
Maiden Contribution
The Senate - Tuesday March 18, 2014 
The Dog Control (Amendment) Bill, 2014 
Portfolios Held
  Minister of  National Security 
  Minister of Communications 
7 June 2018 - 21 July 2019
  Minister in the Office of the Prime Minister
 Minister in the Ministry of the Attorney General and Legal Affairs
11 September, 2015 to 5 August, 2018



Opposition Senator (Temporary)

18 March, 2014 - 2 June, 2015