The Honourable Colm Imbert, MP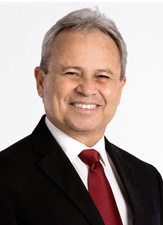 The Honorable Colm Imbert was appointed Minister of Finance on August 19, 2020.
On September 7, 2015, Mr. Colm Imbert was re-elected to the House of Representatives as the Member for Diego Martin North/East in the 11th Republican Parliament.
For almost thirty years, Mr. Imbert has been serving Trinidad and Tobago and the Caribbean Region in his core profession of Civil Engineering. Immediately following graduation, with Honours, from the University of the West Indies, St. Augustine campus in 1979 he worked on a number of projects within the Caribbean Region as a Consulting Engineer. While developing his practice and gaining experience he successfully pursued a Masters Degree in Maritime Civil Engineering from the University of Manchester, England and was formally registered as an engineer in 1986.
Mr. Imbert then transitioned into the academic world and lectured in Construction Management at the St. Augustine Campus of the University of the West Indies and provided consultancy support through the Food and Agriculture Organization of the United Nations (FAO) on Sea Defences for the Government of Guyana.
In 1991, Mr. Imbert entered public life as a Member of Parliament and a Cabinet Minister with responsibility for the Ministry of Works and Transport and Local Government until 1995 when he became a member of the Opposition.
During the period 1995 to 2001 Mr. Imbert focused on the application of his knowledge and skills in Engineering as a Property Developer and Project Manger throughout the Caribbean Region. During his third term as Member of Parliament, he once again served in the Cabinet as Minister of Health and Minister of Science and Technology until he again resumed responsibility for the portfolio of the Ministry of Works and Transport.
Professionally, Mr. Imbert is a member of two major international bodies, the Chartered Institute of Arbitrators and the Society of Construction Law. He also attained a Master of Laws Degree in Construction Law and Arbitration.
After the General Election of 2007, Mr. Imbert also took on the responsibilities of Leader of the House and continues to build on his past performance in the Ministry of Works and Transport in development of the country's infrastructure.
adapted from information obtained from the Ministry of Works and Transport
2008

Portfolios Held



11 September, 2015 - Present




24 May, 2010 - 17 June, 2015




Minister of Works and Transport

8 November, 2007 - 25 May, 2010




Minister of Works and Transport

14 May, 2005 - 7 November, 2007




Minister of Science, Technology and Tertiary Education

10 November, 2003 - 13 May, 2005




10 October, 2002 - 9 November, 2003




26 December, 2001 - 9 October, 2002




12 January, 2001 - 13 October, 2001




27 November, 1995 - 3 November, 2000




Minister of Works and Transport and Minister of Local Government

25 January, 1994 - 8 November, 1995




Minister of Works and Transport

13 January, 1992 - 24 January, 1994