Dominican Republic, Canada and India seek to expand trade with T&T
December 4, 2015: Dr. Jose Serulle Ramia, Ambassador of the Dominican Republic paid a courtesy visit to Senator the Honourable Paula Gopee-Scoon Minister of Trade and Industry on Wednesday 02 December, 2015 at her office.
Ambassador Jose Serulle Ramia noted that the Dominican Republic (DR) is a very important partner to Trinidad and Tobago and expressed interest in expanding the trade relations between both countries particularly in the area of agricultural products from the Dominican Republic.  Minister Gopee-Scoon in agreement stated that 'there is much we can do between both countries and we are looking for exchanges and areas of corporation in terms of trade. We want to increase our local manufacturer's exports to the DR market. Given our economic situation we are looking to the non-energy sectors to bring us the revenues we are used to'.
On Friday 4 December, 2015 Minister also received a courtesy visit from His Excellency Gerard Latulippe, High Commissioner of Canada. Minister Gopee-Scoon emphasised the interest of the Government to 'work with Canada to increase the exports of local products and to secure investments from Canadian firms in T&T'. The High Commissioner was happy to report that the two-way trade between Trinidad and Tobago and Canada has increased significantly over the last year and looks forward to expanding trade opportunities between both countries.
Minister concluded her series of meeting with a courtesy visit from His Excellency Gauri Shankar Gupta, High Commissioner of India at her office. His Excellency gave a brief outline of the trade and investments between both countries. He said 'we should look into joint venture opportunities since  India has much to offer in the area of pharmaceuticals, garments, auto components etc. and the trade between both countries need to be increased'.  Senator Gopee-Scoon expressed interest in exploring the possibilities of establishing joint ventures for manufacturing which is in keeping with the Governments thrust to increase market access for local manufacturers.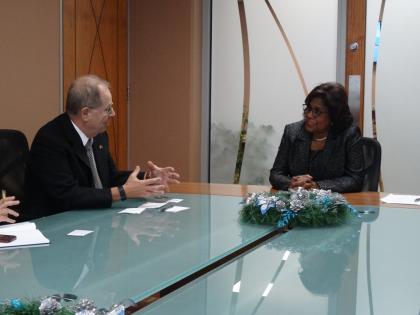 Minister Gopee Scoon during her meeting with Canadian High Commissioner, Gerard Latulippe.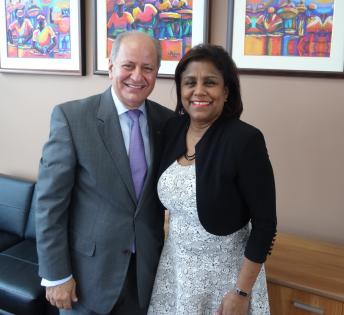 Trade and Industry Minister, the Honourable Paula Gopee-Scoon (right) with Ambassador of the Dominican Republic, Dr. Jose Serulle Ramia
For further information please contact:

The Corporate Communications Unit
Ministry of Trade and Industry
868-625-9947/ 868-623-2931